call or email now
07990 590499 (UK)

+44 7990 590499 (outside UK)




Follow @FamilyHistUK
Family History Research UK - what it costs
My goal is to provide you with what you are looking for, whether this is a comprehensive package of as much as I can find out, or a smaller task.
If you want to trace back a line of your family tree (your father's family, for example) then I will assess the information you already have and give you an estimated price for this.
If you prefer me to work for a certain number of hours and see what I come up with, this is also possible.
Genealogy is not an exact science and I cannot guarantee results. Records of interest to family historians in the UK are extensive but are not complete - for every type of record there are areas or dates missing for a variety of reasons. It is also important to realise that not everything is available online, even though some commercial genealogy sites may try to convince you otherwise!
My costs for family history research are calculated on an hourly basis, with additional charges for some special items if you require them (see below).
Hourly fees are inclusive of everything else, including photography and travel to record offices, archives and libraries within the M25. The map below shows the area covered by this (the M25 is the motorway in blue that encircles London):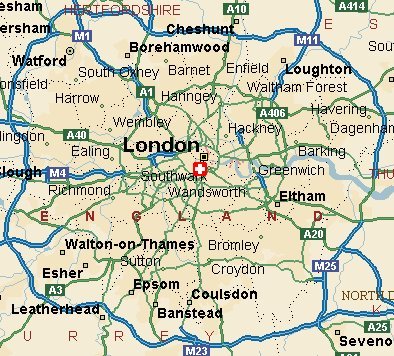 services
The price includes the following:
Search of all available online indexes to provide initial information, including images of original documents where these are available
Research in London record offices and archives and others within the M25, including photographs or photocopies of original documents where this is permitted.
Provision of the results of my research - family tree, written notes, tables etc. - in electronic format.

For an additional fee:
Provision of birth, marriage and death certificates (it may be necessary to obtain these to verify information or to continue to the next stage of the research)
Research in records offices and archives outside the M25, in cases where the information is not available within the London area or online
Results of my research on paper in addition to electronic format - nominal fee plus postage costs to send this to you.

Prices
Basic hourly rate: £30 per hour (same for both online research and record office visits). This includes the results of your research job in electronic format as agreed with you.
If you prefer to pay in US dollars, the equivalent rate is $45 per hour.
Additional costs:
printing of research results - £5 per 50 pages plus postage costs
travel costs to record offices outside London: 45p per mile, plus parking fees at cost
birth, marriage and death certificates at the standard GRO rate (currently £9.25 per certificate)
If I have sent you an invoice and you would like to pay it online,
click here
terms of business
I will provide you with an estimate of costs for your approval before starting any work on your behalf. Once I have your go-ahead, I will give you a timeline for completing the work. I will also agree with you any additional items, such as printing, provision of certificates or travel to record offices outside London. None of these additional costs will be incurred without your approval.
My report may include recommendations for further research. You are under no obligation to ask me to carry this out and I will not go beyond what you ask me to do without your authorisation.
I will ask you to pay a 50% deposit in advance, with the remainder due on completion. I will provide you with a brief summary of the results of my research and send you an invoice for the outstanding payment. After receiving payment, I will send you the full results of my research as previously agreed. All invoices must be paid within 14 days.
My preferred methods of payment are by PayPal or Nochex - these allow you to pay securely by credit or debit card, and all payments in currencies other than sterling must be made this way. I also accept sterling cheques or postal orders. I am not VAT-registered and no VAT will be applied to any invoices.
Family history research is not an exact science; it may not be possible to provide all the information you want, if the records of it are not available. I cannot make any guarantees in advance of the amount of information I will be able to provide to you. I accept no liability for lack of available information, and research costs must still be paid even if the results do not provide the information you were looking for. I undertake to make all reasonable efforts to find the information you have asked for. I will only charge you for the time incurred - if you agree a time limit up front and I do not reach this limit before deciding that no further research is going to be possible for whatever reason, I will charge you only for the time I actually spend on your research. You will not pay for anything that I am unable to do.
Any information you provide to me about yourself or your family members will be kept confidential and not revealed to anyone else without your permission. The copyright of all reports including images remains with Family History Research UK and may not be republished in any form (including online) without permission.
By accepting my research proposal and instructing me to start work, you indicate your acceptance of these terms.
Prices may vary from time to time - for up-to-date information please refer to this website.
Rev. June 2013